Jun Kusanagi Revealed
Jun Kusanagi (born June 5, 1978) is a Japanese model and pornographic actress known for being very thin (she is known for her small waist, in particular) yet having naturally large breasts. Her measurements are T166 cm B95 (65-G) W52 H85; or in English measurements, approximately 5'5" 37˝(C)×20˝×33. She has also been known by the names Mizuho Kanou, Narua Asami, and Kirin Junna. Also, her name is sometimes spelled as June Kusanagi.
Probably one of the most popular covers of Asian Sirens was the one with
Jun Kusanagi
(photography
Kim Mizuno
). I haven't been in touch with her or her management lately. Does anyone know what happened with her since late 2002?
COMMENTS
Once again, not much. Sachiko translated her diary for me one time, and she expressed disappointment that she felt her career had failed. I think this is due to a combiantion of bad business decisions and the fact that she passed her prime so quickly - I am on record as saying she had the best body in the world (and I still think so), but long ago she moved from being slim and spectacularly shapely to just plain skinny. Such a shame.
Perhaps God is fair after all: "I will give you the greatest body the world has ever seen but you'll only be able to keep it for a few years." ;-)
Her figure looks fine to me, but her face looks harder. And she's still well under 30.
Jun Kusanagi comes out of retirement

I'm not sure if the title is translated properly

"Resurrection Of
A Super Idol"

cover & caps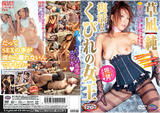 short preview clip
link to short preview clip
Thanks Zam! Sadly though, her tits haven't grown back to their former glory. :-(
Jun Kusanagi's return to JAV this year
she's now around 28 years old

the DVD cover is in the message above

here's one scene from the DVD
video details in screen cap



you need both RAR parts
Link to part 1 76.29 MB
Link to part 2 73.03 MB
Yeah nowadays she's in the Mature Ladies genre. A shame really, she used to be so hot. I remember back in the late 90's when I was first drawn to Japanese porn, she was the ideal woman for my perverted mind. :) I lost interest in her many years ago though. My interest disappeared when her "assets" did.